INFINITI EDITION 30 Lineup Celebrates Our Brand's 30th Anniversary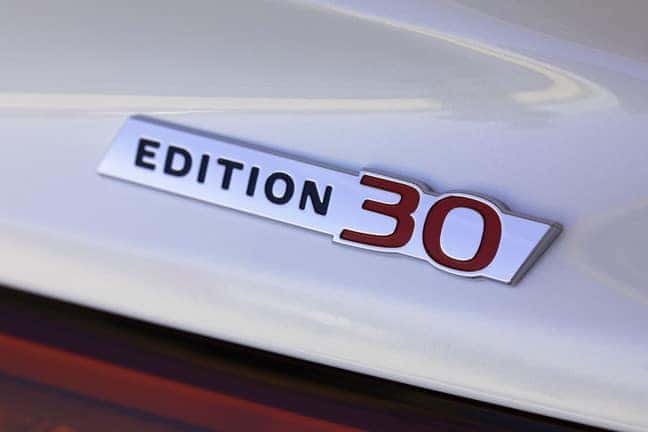 INFINITI first appeared on the roads of New Jersey 30 years ago with the debuting 1990 INFINITI M30 coupe and 1990 INFINITI Q50 sedan. Over the years, our brand grew with the advent of more luxury vehicles including the following models:
INFINITI G20, G35 & G37
INFINITI I30 & I35
INFINITI J30
INFINITI M35 & M45
INFINITI EX35 & EX37
INFINITI JX35
INFINITI FX35, FX37 & FX50
INFINITI QX4 & QX56
Upon our brand's 25th anniversary in 2014, we changed up the naming scheme of our models with Q or QX being at the beginning of each one. The 30th anniversary of INFINITI will be marked by a special set of models coming to our dealership this fall with the EDITION 30 nameplate.
Shop Our New INFINITI Inventory
Offering an exclusive appearance and additional safety features, the INFINITI EDITION 30 lineup that's coming to North NJ will be comprised of the following models:
2020 INFINITI Q50 EDITION 30
2020 INFINITI Q60 EDITION 30
2020 INFINITI QX50 EDITION 30
2020 INFINITI QX60 EDITION 30
2020 INFINITI QX80 EDITION 30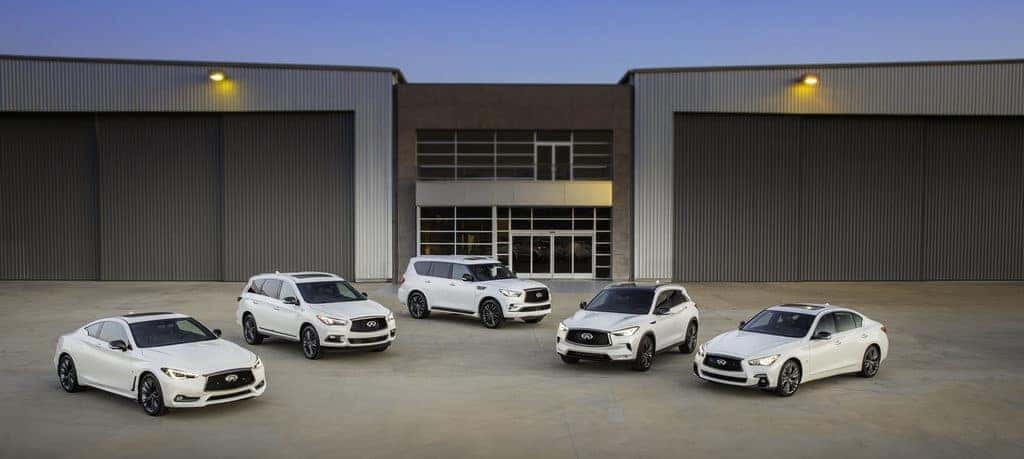 INFINITI EDITION 30 Design Cues
Our vehicle lineup is known for their elegant yet sporty look and the EDITION 30 models go the extra mile in providing a special appearance. And how appropriate is that, considering that these luxury cars and SUVs will be first unveiled 2019 Pebble Beach Concours D'Elegance where so many collector cars have been auctioned over the years.
And these once-in-a-lifetime models will be collector's items. The following design cues are offered on the INFINITI EDITION 30 family:
Dark chrome exterior grille surround
Dark chrome fender trim
Dark chrome rear finisher
Black outside mirrors
Dark-finish wheels
Body-colored rear apron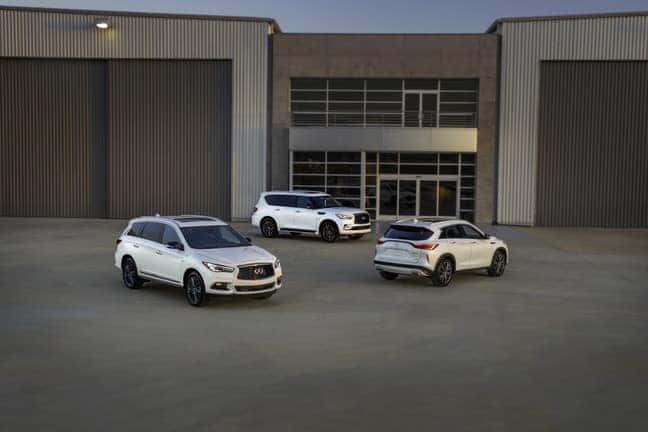 INFINITI EDITION 30 Feature Upgrades
One of the most popular upgrades amongst New Jersey drivers shopping for an INFINITI luxury car or SUV is the ProASSIST Package because of all of the safety technologies onboard to help prevent accidents on roads around town or on highways like the Turnpike, the Parkway, I-80 & I-287. And there are a few that will be onboard the INFINITI EDITION 30 models.
The first one is Intelligent Cruise Control, which is designed to keep your vehicle at a set length from the one in front of you thanks to Distance Control Assist in order to keep you safe and give your foot a break on long highway drives. Predictive Forward Collision Warning will also be onboard to monitor the driving of the car ahead of you & the one in front of that one.
Some of the features are made for driving around town, the first being the Around View Monitor that gives you a 360-degree look at our vehicle surroundings to help you parallel park in NYC, Newark or on your town's Main Street. Another is Backup Collision Intervention, which alerts you when a car is coming even if you can't see it and will automatically apply the brakes if a collision is imminent.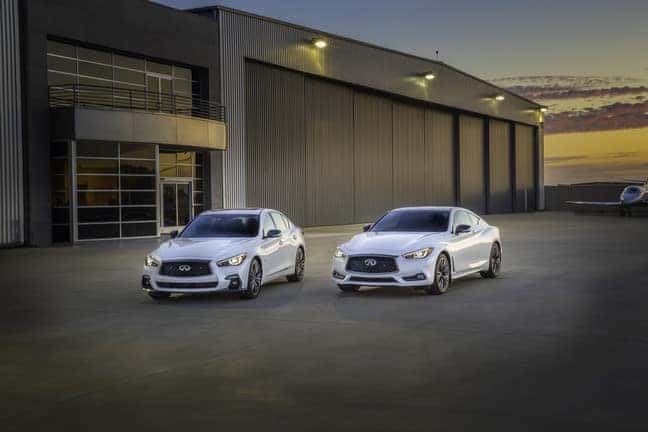 The INFINITI EDITION 30 lineup is expected to arrive at Ramsey INFINITI in the fall. Whether you're shopping for a car like the Q50 & Q60 or are looking for something bigger for the family like the QX50, QX60 or QX80 SUVs, you can drive home in a piece of history with one of these special-edition models.
Contact our team today to learn even more about the INFINITI EDITION 30 lineup or to schedule a test drive of the new INFINITI you have your heart set on!