Car Batteries

Batteries are an integral part under the hood of any INFINITI since they help keep your luxury car or SUV running and one that's not in ideal shape can cause your vehicle to underperform or not start at all. And our INFINITI service center serving Englewood NJ will make sure your battery is ready for the road!
What is the lifespan of an INFINITI car battery? Depending on how much you drive your vehicle, it could range from 3 years to 5 years. Climate also plays into the length of time your battery will last since both hot summers & cold winters we normally see in North New Jersey cause it to operate differently.
Signs Your INFINITI's Battery is Losing Its Charge
Hearing a slow cranking when you start the vehicle
Hearing clicking noises when attempting to start the vehicle
The interior lights starting to dim
The dashboard battery warning light illuminates
Needing to jump start the vehicle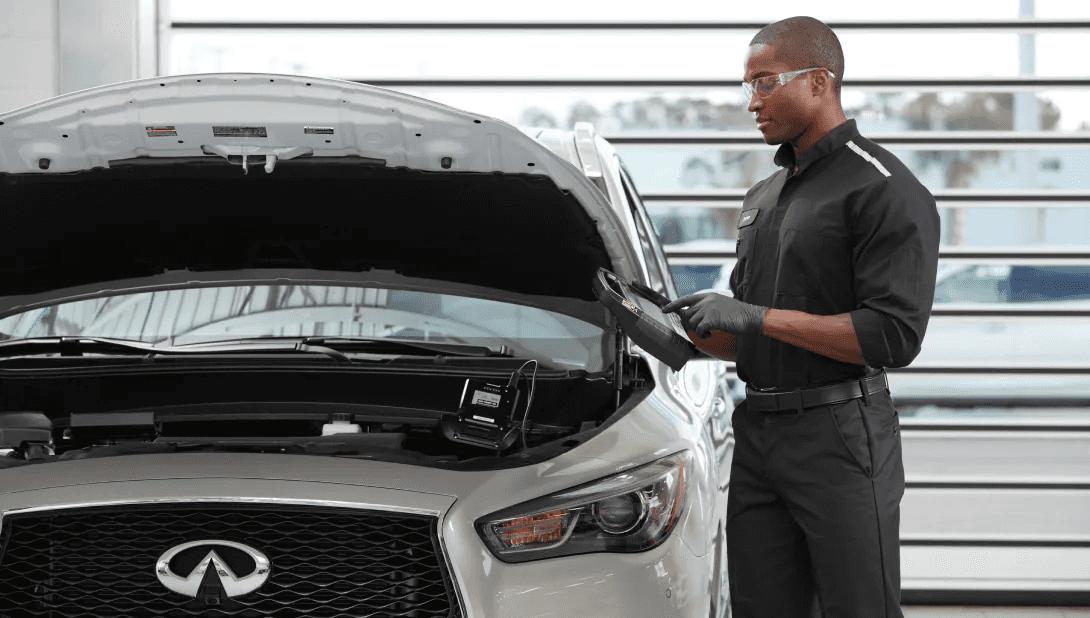 One of our INFINITI-certified technicians can check your car battery in less than 1 minute to determine if it's good to drive on the road, needs to be recharged or has to be replaced. This is part of the complimentary multi-point inspection we offer as part of our Express Service that doesn't require an appointment!
Ramsey INFINITI has genuine INFINITI batteries that we can install here at our repair center serving Clifton NJ. Here are some of the popular models that we'll perform battery maintenance and replacements for:
Sedans like the Q50
Coupes like the Q60
Crossovers like the QX50 & QX60
SUVs like the QX80
We also offer a number of INFINITI service specials to help you spend less while ensuring the integrity of your car battery. These get regularly updated to include other vital vehicle repairs & maintenance that your luxury car or SUV will need.
Whether you want to check if your battery needs work or you know it's time for a new one, we're here to provide first-class customer service. Contact the team here at Ramsey INFINITI, let us know your issue & we'll recommend the best course of action for your vehicle!