Ramsey Cares: Coronavirus Update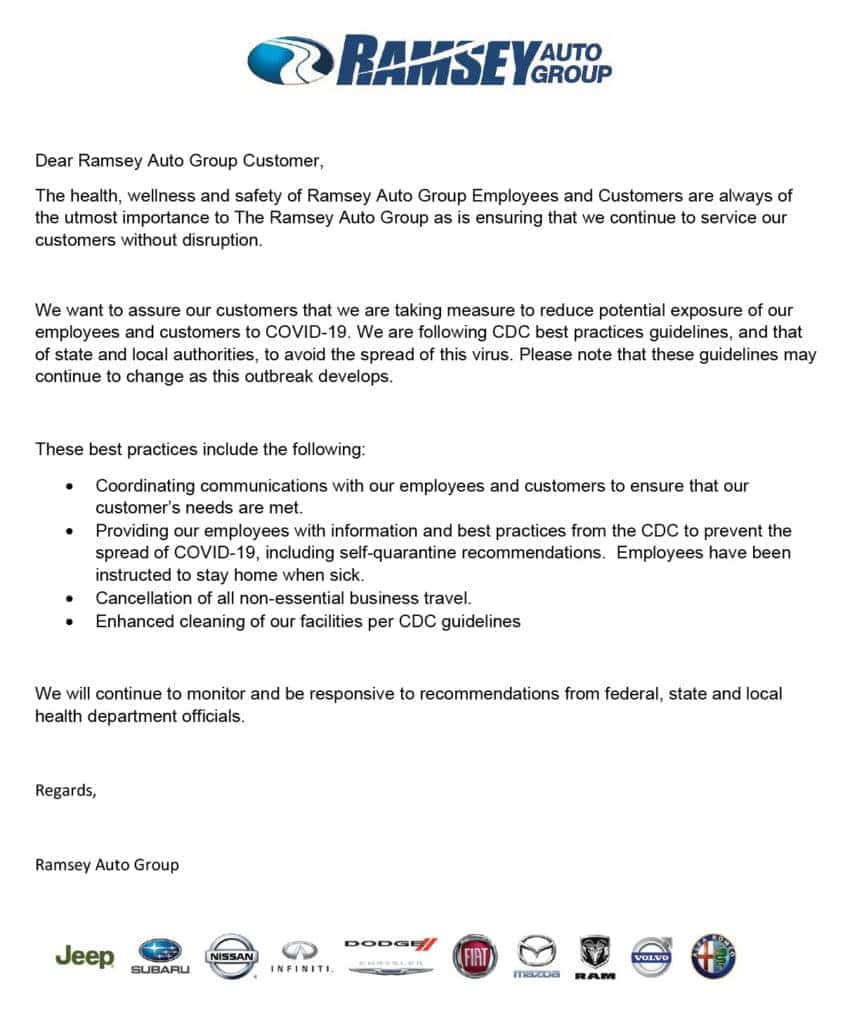 As it has always been, the safety of our employees and customers remains our highest priority. We are doing everything we can to ensure everybody's safety & provide maximum flexibility as the situation around novel coronavirus (COVID-19) continues to evolve.
We will continue to closely monitor the guidance of the World Health Organization (WHO), the Centers for Disease Control (CDC) and other global & local public health authorities regarding the spread of the virus.
Steps We're Taking For Increased Safety
We take great pride in maintaining the highest standards of cleanliness and hygiene. In response to the coronavirus, we have taken additional measures to make our cleanliness protocols even more rigorous.
We have increased the frequency of cleaning our public areas (including lobbies, door handles, public bathrooms, etc.) with the use of hospital-grade disinfectant.
We enhanced the techniques used to clean our vehicles after each loaner/test drive. In particular, we are paying special attention to interior customer touch points such as seats, steering wheels, door handles and other hard surfaces.
We have increased the deployment of antibacterial hand sanitizers for the use of customers and employees.
We are taking steps to ensure the welfare of our employees. This includes instructing employees who feel ill to stay home and consult their healthcare providers.
We will continue to adjust as safety recommendations advance, and continue briefing our team on the appropriate operating protocols.
Still Open For Business
Reliable transportation remains an important part of everyone's life, even as more events are being postponed & canceled and businesses close as a result of the COVID-19 pandemic. We feel it is important to remain available to our customers for their needs.
Alternatives to In-Person Shopping & Sales
Therefore, our team will provide further assistance to our customers to ensure that their car shopping, buying/leasing and/or service experience provides them with the peace of mind they deserve. We also know the current environment may limit the ability to visit us in our showroom, so we remain committed to offering flexible buying/leasing and service options.
VIP vehicle pick-up and delivery for service (dealer picks up vehicle)
Service shuttle to and from home (dealer drives owner)
In-home or in-office sales presentations
In-home or in-office new or pre-owned vehicle delivery
Talk to us over the phone
Most of the sales process can be accomplished over the phone
Text or chat online with any questions
Email or use forms on the website
Online credit applications
Our dealership business hours may change as the COVID-19 situation evolves, but we will still be here to serve our customers in any capacity we're able to.
More information & updates on COVID-19 is available through the WHO (https://www.who.int/emergencies/diseases/novel-coronavirus-2019) and CDC (https://www.cdc.gov/coronavirus/2019-ncov/index.html).